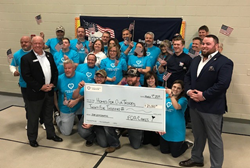 We are thrilled to have American Dream Mortgage partner with Homes for Our Troops to build a specially adapted custom home for Marine LCpl Sean Carroll and his family. Their outstanding support with the build is key to our ability in assisting Sean in rebuilding his life.
PINE, Colo. (PRWEB) March 22, 2019
American Dream Mortgage (ADM), a division of Finance of America Mortgage LLC, joined Homes For Our Troops (HFOT) in kicking off the construction of the home being built for Sean Carroll and his family. This HFOT Community Kickoff occurred on Saturday, March 9, 2019 at Elk Creek Elementary School in Pine, Colorado. The ceremony included an escort and speeches by the builder, key partners, HFOT President/CEO Brigadier General Tom Landwermeyer, HFOT home recipient Army Staff Sergeant Matt Keil and Sean Carroll. Finance of America Cares provided a check for $25,000 for this project along with future labor by the staff of ADM's local offices.
Marine Lance Corporal Sean Carroll was injured on March 25, 2004 in Ramadi, Iraq while on patrol with Echo Company, 2nd Battalion, 4th Marines by an improvised explosive device. The injuries he sustained include the loss of his right leg, amputation of his left thumb and index finger as well as burns over 60 percent of his body. With all that, Sean has a love for life and enjoys spending time in the outdoors, camping, playing guitar and looking forward to studying solar energy. Sean is now medically retired and will be enjoying his new home with fiancée', Jasmine, and their three children.
"It was great that American Dream Mortgage could be part of this Community Kickoff event for the Carroll Family. We are thrilled to be entrenched in the community and with people that are so deserving. It's the perfect match. We look forward to continuing this journey with the Volunteer Day and Key Ceremony in the months to come", said Rob Ripe, Sales Manager of American Dream Mortgage.
American Dream Mortgage, a direct lender, has been providing residential mortgages for consumers in Colorado, Arizona, New Mexico, Nevada, Texas and California since 2004. ADM is committed to all our borrowers through various benefit programs (one example is Nightingale Benefits which provides huge savings for medical, fire department, police department and EMT employees as well as VETERANS), working with credit union members, builder's buyers and providing programs that work for almost every situation.
"We are thrilled American Dream Mortgage has chosen to partner with Homes For Our Troops to build a specially adapted custom home for Marine LCpl Sean Carroll and his family. Their outstanding support and involvement with the build are key to our ability to assist Sean in rebuilding his life. Total commitment like ADM's is essential to building the community support so vital to full recovery," says HFOT Executive Director Bill Ivey.
Since 2004, Homes For Our Troops has been building and donating specially adapted custom homes nationwide for severely injured post-9/11 Veterans, to enable them to rebuild their lives. So far, HFOT has completed over 270 of these projects helping to provide safe environments, freedom and independence, employment and financial stability to their recipients. Nearly 90 cents of every dollar spent by HFOT goes directly to support of our Veterans.
Learn more about American Dream Mortgage by contacting Rob Ripe at 303-829-5595 / rripe@loansclose.com or going to loansclose.com. Learn more about Homes For Our Troops by visiting hfotusa.org. Follow us on Facebook and LinkedIn.
Share article on social media or email: