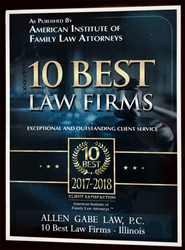 SCHAUMBURG, Ill. (PRWEB) January 29, 2019
For the fourth year in a row, Allen Gabe Law P.C has earned the "10 Best Law Firms" Client Satisfaction Award from the American Institute of Family Law Attorneys. Allen Gabe Law, P.C. is based in Schaumburg, IL and specializes in family law, litigation, corporate law, and real estate law. The award is presented to the 10 best attorneys across the country that are deemed successful in working for their clients' best interest.
The American Institute of Legal Counsel is a third party attorney rating organization made up of 13 divisions for different law specialties. Every year the organization compiles a list of the nations "10 Best" for each state and specialty. This is a prestigious award that requires a nomination by a legitimate source. What makes this award so distinctive is its focus on client satisfaction; many attorneys can consider themselves successful but, this award focuses on the attorneys that have achieved success while focusing on the benefit of their client.
Allen Gabe Law, P.C. specializes in family law, real estate, litigation, business and corporate law. With over 30 years of experience and a proven track record, Allen Gabe never fails to meet his clients' needs. A longed for public speaker amongst a community of attorneys, Allen has also presented in various seminars. Should you ever need representation in any of the legal matters listed previously do not hesitate to contact Allen Gabe Law, P.C.. Learn more by visiting allengabelaw.com or by calling (847) 241-5000.
Share article on social media or email: