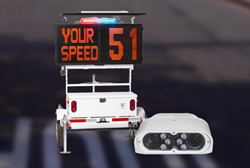 Herndon, VA (PRWEB) October 22, 2017
All Traffic Solutions, the leader in cloud-based traffic management solutions for law enforcement, transportation and smart cities will present Leveraging Technology and Data for Next Generation Traffic Safety, on Sunday, October 22 in the Solutions Presentation Theater in the Expo Hall.
Kent Fullerton, Vice President of Product, and Heidi Traverso, Director of Strategic Solutions will lead a highly informative session highlighting innovative technology that law enforcement professionals can apply today to achieve better traffic safety outcomes now as well as build their infrastructure for the future. Spotlighting the flexible connected cloud solutions that enable real-time, on-demand actionable data and analytics to improve traffic safety, Fullerton and Traverso will profile the technology solutions and current customer deployments and results.
Fullerton and Traverso will spotlight ATS's solutions that allow agencies to quickly collect data where and as it happens, including congestion, speed, wrong way vehicles, vehicle count and classification/weight, drive times, temperature, road conditions, and timer values, send data to a cloud based central platform, and leverage conditional responses and derived intelligence to trigger alerts, messages or other responses back to vehicles.
Attendees are also invited to Booth #2657 for a demonstration of an all-in-one automatic license plate recognition (ALPR) or to learn how TraffiCloud™ All Traffic Solutions' cloud-based transportation management ecosystem can help with traffic calming, speed traffic safety and enforcement, speed dependent messaging and real-time data collection and reporting
##
About All Traffic Solutions
Located outside Washington D.C. in Herndon, Virginia, All Traffic Solutions is consistently recognized as a leading innovator in the traffic safety industry for radar speed and variable message displays, imaging products and intelligent transportation systems, delivering groundbreaking levels of service and product capability. By integrating cloud technology into all of its products, All Traffic Solutions allows customers to manage all their equipment and data remotely through a browser, resulting in better traffic safety outcomes and initiatives related to vehicle-to-infrastructure solutions and smart cities. For more information, visit http://www.AllTrafficSolutions.com.
Share article on social media or email: