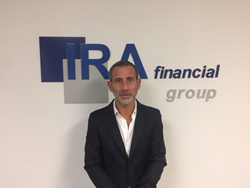 The big winners in the House tax plan are corporations and passive real estate investors who will be able to take advantage of the reduced corporate and passthrough tax rates
NEW YORK (PRWEB) November 17, 2017
Adam Bergman, a partner with the IRA Financial Group, the leading provider of self-directed IRA LLC and Solo 401(k) plan solutions, announces the release of a new podcast that examines the new House tax bill and its impact on the individual, businesses, and retirement accounts. The main emphasis of the House's "Tax Cut and Jobs Act" is to lower taxes on companies in an effort to make them more competitive and discourage them from moving abroad. The bill reduces the corporate tax rate from 35 percent to 20 percent and the rate for pass-through businesses down to 25 percent (with some restrictions). It is expected that many families would also pay less tax. "The big winners in the House tax plan are corporations and passive real estate investors who will be able to take advantage of the reduced corporate and passthrough tax rates," stated Adam Bergman, partner with the IRA Financial Group.
According to Mr. Bergman, although the tax plan reduces the number of individual income tax brackets from seven to four, many middle to upper income taxpayers earning W-2 income will likely not see much benefit from this tax plan as the highest income tax bracket remains at 39.6% and the tax plan calls for the elimination of many deductions, including state and local tax, cap on property deductions at $10,000, and limit of mortgage interest deduction to $500,000 from $1 million.
 
Adam Bergman is a partner with the IRA Financial Group, LLC, the markets leading provider of Self-Directed IRA LLC and Solo 401(k) Plans. Mr. Bergman is also the President of IRA Financial Trust Company, a Self-Directed IRA custodian. In addition, Mr. Bergman is a recognized expert on IRAs and 401(k) Plans and is the founder of the BergmanIRAReport.com and the Bergman401KReport.com. Mr. Bergman is the author of the books titled "Going Solo: America's Best Kept Retirement Secret For the Self-Employed," "The Checkbook IRA: Why You Want It, Why You Need It," "Turning Retirement Funds Into Start-Up Dreams," and "In God We Trust - In Roth We Prosper" available on Amazon, and is a frequent contributor to Forbes. Mr. Bergman has done nearly 100 podcasts and various topics involving retirement funds, taxation, and alternative asset investments. 
Mr. Bergman is a frequent contributor to Forbes.com on various topics involving retirement accounts and has been quoted in over one hundred major news publications on the area of self-directed retirement plans. Mr. Bergman has been interviewed on CBS News and has been quoted in Businessweek, CNN Money, Forbes, Dallas Morning News, Daily Business Review, Law.com, San Francisco Chronicle, U.S. Tax News, the Miami Herald, Bloomberg, Arizona Republic, San Antonio Express, Findlaw, Smart Money, USA Today, Houston Chronicle, Morningstar, and American Lawyer on the area of retirement tax planning.
IRA Financial Group is the market's leading provider of self-directed IRA LLC and Solo 401(k) plans. IRA Financial Group has helped thousands of clients take back control over their retirement funds while gaining the ability to invest in almost any type of investment, including real estate without custodian consent.
To learn more about the IRA Financial Group please visit our website at http://www.irafinancialgroup.com or call 800-472-0646. To learn more about establishing a self-directed IRA account with the IRA Financial Trust Company please visit http://www.irafinancialtrust.com or call 800-472-1043
Share article on social media or email: