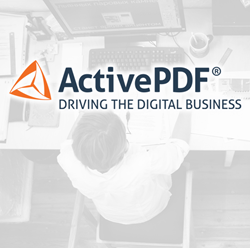 "We're excited to introduce DocSpace Reader Plus because it truly is a PDF productivity suite..."
LAGUNA NIGUEL, Calif. (PRWEB) December 12, 2017
ActivePDF, a global leader in PDF automation, today announced the release of a robust browser-based PDF viewer and editor to its family of DocSpace brand products. Reader Plus enables end users to quickly and easily edit and view PDF documents in web applications, accessible through their browser. External applications or plug-ins are not required and content is rendered accurately on-demand, keeping native PDF files secure behind the scenes.
Reader Plus allows users to embed a PDF viewer and editor into most web applications. With Reader Plus technology, users can accomplish a variety of PDF related tasks, including adding annotations, filling form fields, adding security by 'locking down' elements within the PDF file, moving and removing pages, and more.
As a server-based viewer and editor, Reader Plus removes the complexity and cost of client-based solutions. Organizations retain the PDF behind their firewall to secure the content within the documents, while allowing for personal productivity through authorized viewing and editing. For further security, Reader Plus gives users the ability to disable the print and download option for sensitive files.
"We're excited to introduce DocSpace Reader Plus because it truly is a PDF productivity suite that delivers high performance access to control secured documents," says Tim Sullivan, CEO and Chief Architect at ActivePDF. "Organizations gain the benefit to customized access controls of documents, while decreasing the client software footprint and costs associated to maintain. This provides teams and end users the ability to collaborate, regardless of where the document is located."
Reader Plus features include:
Browser-based PDF Viewer & Editor – Compatible with all modern web browsers, Reader Plus makes it easy to extend PDF viewing and editing capabilities to an entire user base, without requiring any client-side installation or maintenance.
Customizable User Interface – Created by developers for developers, easy customization of the user interface allows to disable features, integrate custom buttons, and more, all through a customized, robust API.
Secure PDF Documents Behind Firewall – Reader Plus is hosted behind an organization's firewall, protecting confidential documents from unauthorized distribution or tampering. Customization controls prevent users from printing and/or downloading PDF documents, ensuring sensitive data remain securely on the server.
ActivePDF works closely with global businesses in a variety of industries to deliver the best in PDF viewing, converting, and manipulation. Reader Plus comes at a perfect time for developers and IT professionals who are seeking a complete PDF solution for working with editable objects in the cloud and in a high-volume, enterprise environment.
Pricing and Availability
Reader Plus is available now direct through ActivePDF and their corporate partners. For additional information on features and pricing, visit ActivePDF.com/products/readerplus.
About ActivePDF
Founded 2000, ActivePDF Inc., is privately held and is a global provider of PDF tools for integration within virtually any business process, including Enterprise Content Management (ECM), Document Management, and Workflow solutions. The ActivePDF suite is designed to streamline large volumes of rendering and assembly of content into accurate, secure and accessible PDFs. We serve over 25,000 customers from 90 countries in numerous industries including: Healthcare, Financial, Education, Manufacturing, Utilities, Engineering, Legal and Government. For more company information, visit ActivePDF at https://www.activepdf.com
Share article on social media or email: