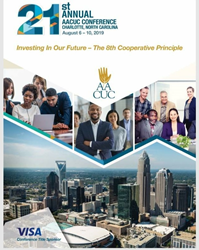 We are touched, moved and inspired by the level of support that we have received from the leadership of VISA™.
SNELLVILLE, Ga. (PRWEB) July 16, 2019
The African American Credit Union Coalition (AACUC) is holding their 21st Annual Conference in Charlotte, North Carolina at the Hilton Center City Hotel from August 6 – August 10, 2019. This year VISA™ is the Conference Title Sponsor, their commitment to financial stability, financial equity in all communities and a willingness to partner with organizations that further financial literacy and inclusion is of great importance to the credit union community.
"We are touched, moved and inspired by the level of support that we have received from the leadership of VISA™. From the beginning of the partnership, they have shown a commitment to AACUC and continue to increase their sponsorship level every year. This is a great year to have VISA™ as the Conference Title Sponsor as we recognize Maurice R. Smith for his extraordinary contributions to the credit union movement with the Pete Crear Lifetime Achievement Award," said Executive Director, Renée Sattiewhite.
The 21st Annual Conference theme is, Investing in Our Future – The 8th Cooperative Principle. Diversity, equity and inclusion are the foundation of the 8th Cooperative Principle and enhances the principles that shape and guide the credit union industry. This conference will also recognize trailblazers in the credit union industry with the AACUC's African American Credit Union Hall of Fame Honorees: Sandra DeVoe Bland, Board Chair at SRP FCU; Janet McDonald, Retired Sr. Sales Market Manager at CUNA Mutual Group; Joan Nelson, Board Chair at Coastal Credit Union and Ed Presnell, Regional Business Executive, Peach State Federal Credit Union on Wednesday, August 7, 2019.
To ensure that the conference participants are getting quality information the Keynote and General Session Speakers include Jim Nussle, Simon T. Bailey; Ancin Cooley; Ann Stevenson; Emma Norman; Hannibal Brumskine, Kevin Paasch, Todd Hassler, David Sussman, Dan Schline, Dr. Tammie Moore and NCUA Chairman, Rodney Hood. AACUC continues to recruit local and national speakers to provide, education, professional development and current trends information to the conference participants.
For the full agenda and to register for the conference, please visit our website at https://www.aacuc.org/21st-annual-conference
About AACUC:
The AACUC was created to increase the strength of the global credit union community. In 2003 the AACUC became a 501c3 non-profit organization. Over the years, AACUC has grown and is ever changing to meet the needs of the dynamic credit union community which it serves. The organization is all-encompassing for individuals (professional and volunteers) in credit unions, insurance, regulators, consultants and other entities in the credit union industry.
Share article on social media or email: