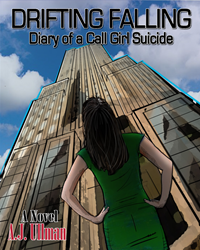 Jim DeBrosse, author of Hidden City, says: "A. J. Ullman's writing is as sexy and smart as his characters in this dark but enlightening cat-and-mouse game about a troubled call girl and her beguiled therapist."
Cincinnati, Ohio (PRWEB) October 07, 2017
"Drifting, Falling -- Diary of a Call Girl Suicide", chronicles the story of Ripley Luna, a smart, beautiful young woman who suffered multiple childhood traumas that set her on a collision course with her fate to kill herself.  Ripley, whose name is an homage to the protagonist of the Alien movies, dreamed as a child of becoming an astronaut.  Her dream derailed by the jetsam of her traumas, she earns a living in the only way she knows how — as a courtesan for a stable of rich clients.  During the day, she attends college to broaden her horizons while at night, she sails the bed sheets, not the stars as she had dreamed. Her natural inquisitiveness and intelligence prod her to better herself. Ripley peels back the layers of her life with humor and sarcasm.  With the help of her psychiatrist, Dan Truscott, a man deep in his own moral quagmire, and Mort, her best friend, she tries to navigate her way off the Earth into space. Ripley, ever fond of astronaut lore and with a predilection for Greek mythology, will keep you guessing whether the Lost Moon slogan of Apollo 13 "Failure is not an option" — will come to pass.
Deborah E. Kennedy, author of Tornado Weather, Chosen by Oprah as a Top Ten Read for the Summer of '17 says: "In a voice at turns wry and tender, Ullman brings to life a woman who may be damaged by the dark roads life has taken her down, but it's her strength readers will remember, her singular sense of self. Not since Alien has a Ripley been more riveting." 
"[The] story of an astronaut wannabe whose life crashed and burned before she ever made it to the stars. A cautionary tale of what happens to a fragile and disturbed psyche. Crime and punishment dished out in equal measure, Ullman realistically portrays a damaged soul. From one who has handled over 200 homicide cases, I found the journey of someone contemplating a different manner of death -- suicide -- to be a great read."
-- Mark Piepmeier, Esq., Head of the Criminal Division of the Hamilton County, Ohio Prosecutor's Office and Director of Law, City of Sharonville, Ohio
A. J. Ullman, J.D., MSN, lives in Southwest Ohio. He is a writer, nurse practitioner and lawyer. This is his third novel.
Share article on social media or email: