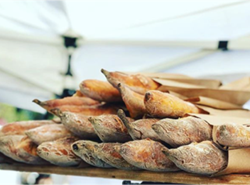 These days' people are looking for things to do and making bread can actually be exciting.
BIG SANDY, Mont. (PRWEB) May 29, 2020
America has been baking its heart out during the COVID-19 pandemic! According to Google Trends, the number of people that searched for "bread" in the month of March hit an all-time high. Whether kneading dough to let off steam, getting creative in the kitchen to quell anxiety, or to make homemade pizza for kids home from school, baking is still trending with #QuarantineBaking all over social media. Even celebrities are getting in on the act, from famous personalities to Top Chef host Padma Lakshmi, they are all trying their hand at bread-making and it seems the baking trend could linger post-pandemic!
During the four-week period ending April 11th, yeast sales alone jumped 410% year over year, according to market research firm Nielsen, and flour has been in such high demand that supermarket shelves are often empty. "We've noticed sales of KAMUT® brand wheat flour soaring, and our millers are working hard to keep up with demand," said Trevor Blyth, Kamut International CEO.
Thomas "Mac" McConnell owner of the Midwife & the Baker commented that these days' people are looking for things to do and making bread can actually be exciting and fulfilling. "Preparing it the night before, you anticipate what it's going to look like in the morning," he said adding, "It's very satisfying and bread is really comforting if you bake it yourself or buy a great tasting loaf. However you get it, bread brings people pleasure."
For many serious bread bakers, KAMUT® wheat flour is their first choice and they make some pretty amazing loaves with it. What makes it so special besides its flavor, which according to Mac makes, "the bread taste buttery even without butter and it colors well in the oven, the flavor is amazing," is its high nutritional value that's backed by the guarantees and research of the KAMUT® brand. Information on studies that involved use of KAMUT® brand wheat bread can be found here.
One of the top selling breads of the Midwife & the Baker is their KAMUT® wheat flour baguettes. Mac McConnell has been using KAMUT® wheat flour for the last 10 years and says, "One time I thought I'd try adding some regular white flour in with the KAMUT® flour, that did not go down well with my customers, they wanted to know what I had changed. They could not only taste the difference, but some people with wheat sensitivities were having challenges eating it. Never did that again!"
With 32% of people saying that they plan on making more home cooked meals after the pandemic, it's worth looking at the long-term effect of this tendency especially since recent habits like scratch cooking and home baking seem likely to become a regular part of more consumers' routine. According to a small survey of 300 U.S. consumers conducted in early April by market researcher AMC Global and OpinionRoute, "A third of respondents said they were baking more than usual during the pandemic, with 20% predicting they would continue to bake more in future."
About KAMUT® Brand Khorasan Wheat
From 36 kernels and legends of discovery in Egyptian tombs, today KAMUT® brand khorasan wheat, an ancient grain, guaranteed under the KAMUT® brand, to never be hybridized or genetically modified, always organically grown, prized for its nutrition, ease of digestibility, sweet nutty-buttery taste and firm texture, can be found throughout the world in products including breads, pasta, pizza, cereals, snacks, pastries, crackers, beer, green foods, and cereal drinks.
Media please contact Giselle Chollett: giselle@adinnyc.com, 917.386.7116.
Share article on social media or email: