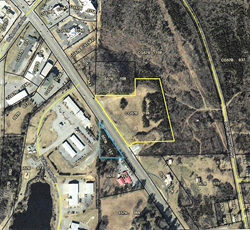 5.5 Acres Zoned C-2 Commercial in Calhoun, GA.
CALHOUN, Ga. (PRWEB) February 21, 2019
The surplus property will be sold via online auction only by Potts Brothers Land and Auction. Bidding Starts March 7th at 12:00 pm and will end March 21st at 6:00 pm. The property is located at Hwy 53 East at I-75 Exit 312 Calhoun, Gordon County, GA.
Selling in Tracts from 1.50 to 2.50 Acres, Graded and Ready to Build—Site Ready, Long frontage on Hwy 53, Approved DOT Entrance in place, Using Ultimate Choice Bidding System with Extended Bidding, Owner has other interest and says SELL!!
Potential buyers are encouraged to view the property, March 7th, 14th and 21st from noon to 2:00 pm or on the auction website. Terms: 20% down at auction end, balance in 309 days. Buyer premium added to final bid.
Details of the sale are available on the website http://www.pottsbrothers.com/project/details/46902/ or by contacting the auction company directly at (706) 764-1226.
About Potts Brothers Land and Auction:
Potts Brothers specializes in selling at auction residential, commercial, industrial and agricultural real estate as well as personal property, vehicles, farm and construction machinery, business liquidations and much more. Our clients have included individuals, estates, banks, government agencies, family groups and bankruptcies. We take pride in our reputation as a trustworthy and reliable firm with successful auctions throughout Georgia, Tennessee and Alabama. Please contact us at http://www.pottsbrothers.com.
Share article on social media or email: