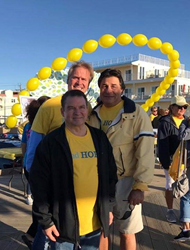 Seaside Heights, NJ (PRWEB)
September 14, 2017
HOPE Sheds Light, Inc., a Toms River-based non-profit organization dedicated to educating families on the disease of addiction, drew nearly 2,000 people to the Seaside Heights Boardwalk for its 4th Annual Celebration of HOPE Walk on September 9th, 2017.
"We would like to express our gratitude for everyone's participation at our 4th Annual Celebration of HOPE Walk," said Arvo Prima, Co-founder of HOPE Sheds Light. "It was a wonderful day and we had nearly 2,000 attendees, media coverage and community support. We would also like to congratulate Team FWH and Team Stepping Up For Sabrina for your outstanding fundraising efforts this year in support of our HOPE Walk."
Founded in 2012 after co-founder Ron Rosetto lost his son Marc to a battle against substance abuse, HOPE Sheds Light serves to provide help and resources to families affected by addiction. Rosetto, along with Co-founders Arvo Prima and Stephen Willis, and a team of board members and volunteers, work year-round to support families suffering from the epidemic of substance abuse that has become widely prevalent at the Jersey Shore in recent years.
"Since the families and friends of those with addiction problems often feel isolated, ashamed, overwhelmed and hopeless, HOPE Sheds Light was created to provide direction, resources and hope toward recovery," said Ron Rosetto, co-founder of HOPE Sheds Light. "We are passionate about helping anyone in need, and we have created this organization to provide those individuals with the resources they need to find hope for a future free from drug addiction."
The Celebration of HOPE Walk was held on the Hiering Avenue beach in Seaside Heights. All participants received a yellow HOPE Sheds Light walk t-shirt at the event, and resources were available for family members and friends of those dealing with addiction and substance abuse.
The event, moderated by HOPE Sheds Light Co-founder Stephen Willis, began with a prayer from Pastor Sue of Holy Cross Lutheran Church in Toms River. Congressman Tom MacArthur and Freeholders Virginia E. "Ginny" Haines and Joseph H. Vicari also gave opening remarks.
"We all know people who are struggling (with addiction) and that's why I suspect all of you are here," said McArthur, who chairs the Opiate Task Force in Washington. "It breathes a whole new life into me just to see this many people this fourth year in now on this walk. I also want to say… none of us are alone, there are people here in this crowd that care... loved ones that care… recovery groups and first responders that do a tremendous amount of work in trying to bring help to this issue. And I want to thank them. This is a great opportunity to stand together, to walk together and to hold each other up together."
"We are all equal," said Freeholder Vicari. "There are no heroes. The biggest job we have to do today is saving our generation from drug addiction. We will win. We will save the lives of our younger people. We will prevail because we have hope and we have love."
The event also highlighted four guest speakers: Skylar Josephson, Bruce Corby, Beverly Prima and Alicia Cook. To hear their inspirational stories, video footage of the walk is available on HOPE Sheds Light's Facebook page.
"This is a celebration of recovery," said Prima. "We're always hearing about the negatives of the disease. But by bringing hope and education to the community, we support each other and those affected. Through this walk, we show the community that recovery is possible."
"We know that there's not one right way to recovery, there are many," said Willis. "But we do know that to be successful in recovery, we have to want change and believe that change is possible. HOPE exists, as families in recovery, to share our hope and joy and our blessings with you. It's hope that gives us the energy to move forward. We have to draw strength from the wisdom of our peers because when we do it, we start getting better. But we must believe that there is a better life beyond the confines of our own limited thinking and that's hope and that's what HOPE Sheds Light is. That's what we offer. It's a wonderful combination of faith, hope and love grounded in wisdom, strength and experience. Why do we do it? Because our sons want us to. Because by helping you get well, we elevate the lives of our blessed boys."
To learn more about HOPE Sheds Light, visit HOPEShedsLight.org, send an email to info(at)HOPEShedsLight(dot)org or call 732.244.0783.
About HOPE Sheds Light, Inc.

HOPE Sheds Light, Inc. is an IRS 501(c)(3) nonprofit organization (Tax ID: 46-3910504) that is supported by friends and families directly affected by addiction and found recovery through continuous love, support and understanding. The mission of HOPE Sheds Light is to raise awareness and educate individuals, families and the community about the disease of addiction and to provide hope and resources towards recovery.
To date, through community education and outreach, HOPEShedsLight.org has had over 110,000 page views, over 1,000 people called the toll-free helpline, more than 1,000 individuals attended our family group meetings and HOPE Sheds Light sat down with over 300 families to provide individual help. Through community presentations, over 4,765 people have received educational support and awareness programs. Over 46,000 users have come to the HOPE Sheds Light Facebook page organically and an additional 289,577 Facebook users have received HOPE Sheds Light's message of hope through online targeting.
HOPE Sheds Light is filling critical service gaps from prevention and treatment through to recovery, which is why HOPE Sheds Light has developed strong partnerships with other addiction organizations, as well as community groups. HOPE Sheds Light also offers legal aid and recovery scholarships to qualified candidates, and deploys trained volunteer Family Recovery Advocates into the community to offer additional resources and guidance. Support groups are also available to anyone affected by addiction. To learn more, please visit HOPEShedsLight.org.