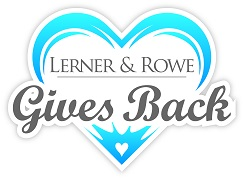 "Lerner and Rowe Gives Back is more than happy to be able to sponsor this year's Ed Doherty Award Luncheon and give back to the Classroom Teachers Assistance Fund. School sports do far more than simply provide physical activity. They teach players important life skills, like leadership and teamwork
SCOTTSDALE, Ariz. (PRWEB) December 05, 2018
The law offices of Lerner and Rowe, P.C are proud to announce our sponsorship of the 2018 Ed Doherty Award Luncheon presented by the Grand Canyon State Gridiron Club. This award luncheon takes place on Saturday, December 8th, at the Scottsdale Resort at McCormick Ranch from noon - 2 pm.
The Ed Doherty Award is the State of Arizona's highest individual high school football honor. This award recognizes the player that best showcases their pursuit of excellence with integrity. The winner of the Ed Doherty Award demonstrates great ability combined with hard work, diligence and perseverance.
This award recognizes the well rounded accomplishments of the players, including their community involvement, academic performance and school spirit. This year, a total of 51 nominees are in the running for the Ed Doherty Award. The award will go to the state's most outstanding high school football player as chosen by the Grand Canyon State Gridiron Club.
The Lerner and Rowe Gives Back Foundation will be providing a $7,500 cash donation to the Classroom Teachers Assistance Fund. Lerner & Rowe will also be the presenting sponsor of the pre-luncheon reception. Lastly, the Lerner & Rowe Foundation will sponsor lunches for all Ed Doherty Award nominees, as well.
"Lerner and Rowe Gives Back is more than happy to be able to sponsor this year's Ed Doherty Award Luncheon and give back to the Classroom Teachers Assistance Fund. School sports do far more than simply provide physical activity. They teach players important life skills, like leadership and teamwork, that will benefit them as they make their way in the world. The future lies with our children and we gladly support the education our teachers and coaches provide," said Kevin Rowe, founder of Lerner and Rowe's Personal Injury Attorneys.
This year's event will mark the 32nd year of the Ed Doherty Award Luncheon. Lerner and Rowe Gives Back is proud to once again sponsor this annual event.
More about Lerner and Rowe
For more information about Lerner and Rowe's personal injury attorneys call (602) 977-1900 or visit lernerandrowe.com. To learn more about the criminal defense and bankruptcy legal services offered by their partner law firm Lerner and Rowe Law Group, visit lernerandrowelawgroup.com. Looking for help filing for social security benefits? You can reach the law firm's other legal partners at Social Security Disability Advocates by calling (602) 952-3200 or online at socialsecuritydisabilityadvocatesusa.com.
To connect with Lerner and Rowe on social media, follow the law firm on Twitter or Facebook. Also, remember to visit lernerandrowegivesback.com to learn more about the community services, sponsorships, and events that the team at Lerner and Rowe support.
Share article on social media or email: