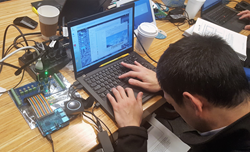 Cyber-Physical Security Education will defend today and empower the next generation to invent the future.
CHICAGO (PRWEB) August 09, 2018
CYBATI in collaboration with the Ohio State University is hosting a 2-day user's conference and a 3-day training event November 5th and 6th, and November 7 - 9, 2018. The 2-day user's conference will provide help to current and future users of the CybatiWorks cybersecurity education platform through a showcase of use cases and the next generation of the platform. The 3-day training event offers CYBATI's Critical Infrastructure and Control System Cybersecurity course with retained CybatiWorks Traffic Light Mini Kit in a compressed format. The user's conference will highlight how the cybersecurity educational platform is being used by professionals, universities, community colleges and high schools. The training event will provide hands-on cyber-physical cybersecurity education to learn about risks and defenses to critical cyber-physical infrastructure. Participants are stepped through the process of build, break and secure to learn how to secure the most critical of infrastructure such as the electric grid, pipelines and manufacturing.
The CybatiWorks platform has educated over 9,000 cybersecurity professionals, and is in use by over 30 academic institutions in high school, associate, bachelors and graduate programs. "Cyber and its security is a common core of professionals actively defending critical infrastructure and any modern profession" says Matthew Luallen, the Executive Inventor at CYBATI.
Interested participants can register for the events at the 2018 CybatiWorks User's Conference and Training Event registration page.
Share article on social media or email: