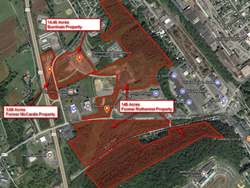 "This sheriff auction offers a great opportunity for a new owner; lenders agree that this is the best way to bring this land to the marketplace."
Burnham, Pennsylvania (PRWEB) September 28, 2017
Individuals, developers and investors will have the opportunity to purchase tracts of commercial, industrial and residential development land in Burnham, Pennsylvania via Sheriff Foreclosure Auction this fall. The auction is Tuesday, October 25 at 10 am. The auction will be held off-site at the Mifflin County Courthouse at 20 N. Wayne Street, Lewistown, Pennsylvania 17044.
The 163.13± Acres site is recognized as the Derry Heights Development and is located off Burnham/Yeagertown Interchange of Route 322 West. This property is located next to other active commercial developments, including the new/under construction $14,000,000 PHN Health Center and adjacent to an operating auto dealership. With over $3,500,000 of site improvements to-date, the property also offers over $621,000 in an Infrastructure Escrow Account, as well as a $391,000 ARLE Grant, and a pending $586,000 ARC Grant to assist in the remaining infrastructure.
"This sheriff auction offers a great opportunity for a new owner; lenders agree that this is the best way to bring this land to the marketplace," Tyler Maas, director of sales and marketing for Maas Companies, said. "The due diligence package is complete; the property and funding are waiting for a new owner."
Bidders are encouraged to view the property at their convenience or a staff member will be on-site during the below noted times:
Tuesday, October 3 from 10 a.m. to 2 p.m.
Tuesday, October 24 from 10 a.m. to 2 p.m.
Details of the sale are available on the Maas Companies website at http://www.maascompanies.com or by calling (507) 285-1444.
Share article on social media or email: